Contact
Name
Eduardo Ferrera
Position
Researcher
Phone
+49-201-183-6361
Fax
+49-201-183-4176
Email
eduardo.ferrera@uni-due.de
Address
Schützenbahn 70
Building SA
45127 Essen
Room
SA-327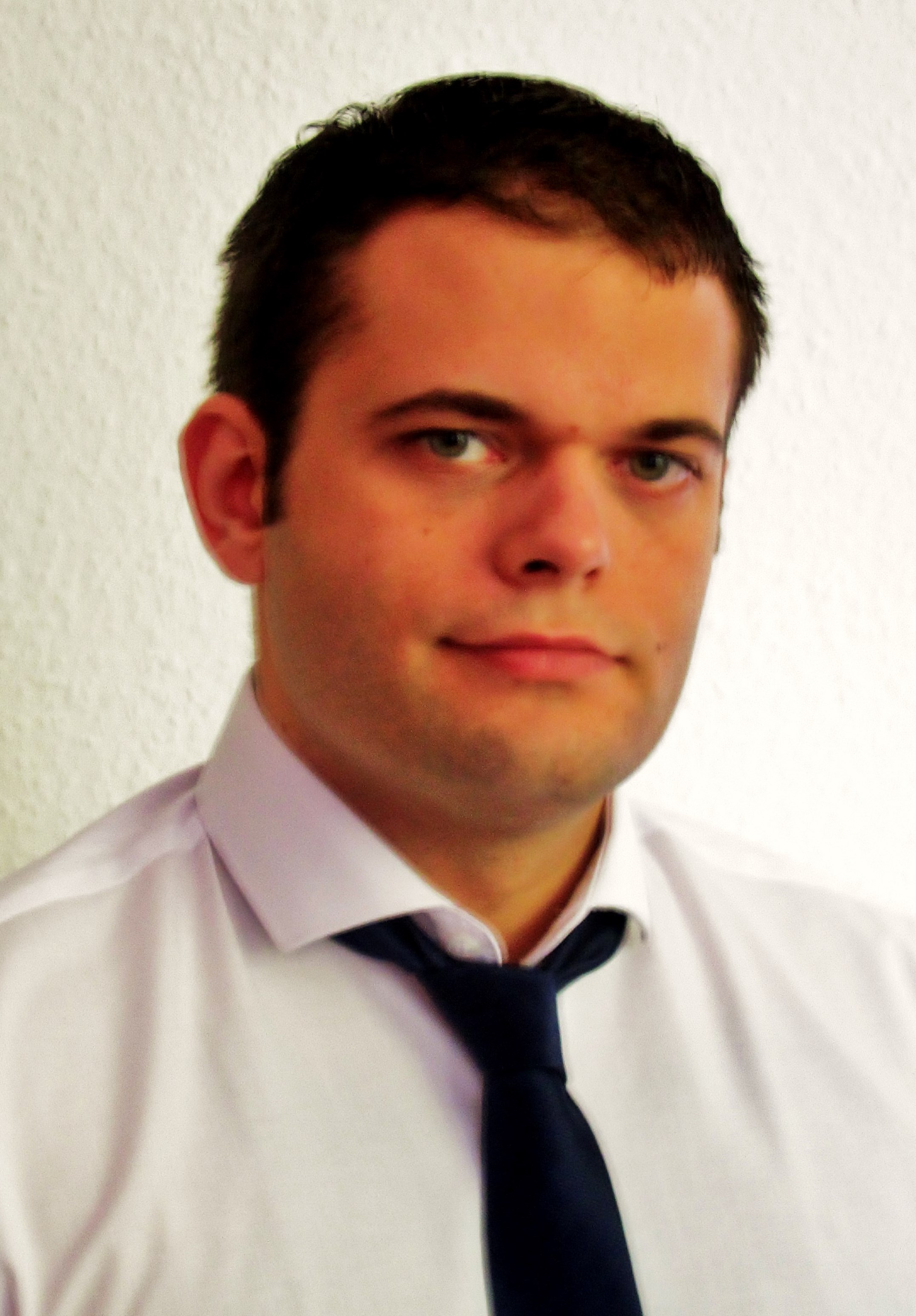 Research Interest
Multi-Robot team coordination.
Collision avoidance with acceleration constraints.
Distributed Systems.
Simultaneous Localization and Mapping.
RSSI-based Indoor Localization Systems.
Education
PhD Student in Robotics (EQF level 8)
University Duisburg-Essen
Specialization: Multi-robot Wireless Calibration for Human Positioning Systems
October 2005 – October 2012:
Telecommunications Engineering (EQF level 7)
University of Sevilla
Specialization: Remote Control and Robotics.
Work Experience
Research Assistant at the Networked Embedded Systems group (NES)
– Research:
        Distributed navigation system to calibrate Human Positioning Systems.
Auto-coordinated collision avoidance system with acceleration constraints.
– Responsabilities:
Robotic Laboratory.
Multi-robot Testbed based on ROS architecture.
Fabrication Laboratory (FabLab).
3 x Student Assistant (HiWi)
– Developments:
Coordinated team of robots.
4 x Turtlebot 2
1 x Turtlebot 3 Burguer
2 x Parrot AR2.0
Fabrication Laboratory.
3 x Ultimaker 2+
Zortrax 200M
Zing 30W Laser Cutter
Matlab-based Multirobot Simulator (MiMicS)
Augmented reality based indoor localization system (under construction)
Tag-based indoor localization and navigation system for drones (under construction)
March 2012 – August 2012:
Erasmus Practice Scholarship at the Networked Embedded Systems group (NES)
– Research:
Development of a mini-robot able to monitor the status of a TelosB network. Planet project.
– Developments:
All terrain Mini-Robot Arduino based.
December 2010 – October 2012:
Research Scholar at the Robotic, Vision and Control group (GRVC)
– Research:
Multi-robot Collision Avoidance systems.
– Developments:
Multi-robot simulator in Matlab/Simulink.
Multi-robot interface between Matlab and Player/Stage.
Teaching
Project Group:
Unmanned middle-size Ground Robots, SS 2017
Seminars:
Autonomous Robot Navigation, SS 2016
Autonomous Robot Navigation, SS 2015
Autonomous Robot Navigation, SS 2014
Autonomous Robot Navigation, WS 2013/14
Projects:
Autonomous Navigation for Middle-size Robots, WS 2016/17
Autonomous Navigation for Middle-size Robots, WS 2015/16
Autonomous Navigation for Middle-size Robots, WS 2014/15
Autonomous Navigation for Middle-size Robots, WS 2013/14
Exercises:
Programmieren in C/C++, SS 2013
Bachelor and Master Thesis
BT: Design and implementation of local navigation algorithms for an autonomous drone,  SS16
BT: Plugins for local planning algorithms within the Navigation Stack of ROS,                    SS16
MT: ArUco, an augmented reality-based system to perform robotic indoor localization,   WS15/16
MT: Decentralized Conflict Resolution System for Unmanned Aerial Vehicles,                 WS15/16
MT: Robotic Enviromental Monitoring comparaison for indoor enviroments,                     WS15/16
MT: Design and Evaluation of a low-cost multipurpose Robot,                                          WS12/13
Publications
2018
MiMicS: a multi-robot simulator for teaching, rapid prototyping and large scale evaluations. of the on ACM., In Proceedings 33rd Annual ACM Symposium Applied Computing. (Ed.):

pp. 843–846,

2018

.
:
Marrying Stationary Low-Power Wireless Networks and Mobile Robots in a Hybrid Surveillance System.

Proceedings of the International Conference on Distributed Computing in Sensor Systems (DCOSS'18),

2018

.
:
2017
Replacing Free-Ranging Robots with Alternative Mobile Nodes.

26th International Conference on Computer Communications and Networks (ICCCN),

2017

.
:
Decentralized Safe Conflict Resolution for Multiple Robots in Dense Scenarios.

Robotics and Autonomous Systems,

91

,

pp. 179–193,

2017

.
:
From Fast to Accurate Wireless Map Reconstruction for Human Positioning Systems.

Iberian Robotics conference,

pp. 299–310,

Springer

2017

.
:
2013
Multi-robot operation system with conflict resolution.

In ROBOT2013: First Iberian Robotics Conference.,

pp. 407-419,

Springer, Cham.,

2013

.
:
Decentralized Collision Avoidance for Large Teams of Robots.

In Advanced Robotics (ICAR), 2013 16th International Conference,

pp. 1-6,

IEEE

2013

.
: