Address and Location
Schützenbahn 70
Building SA
45127 Essen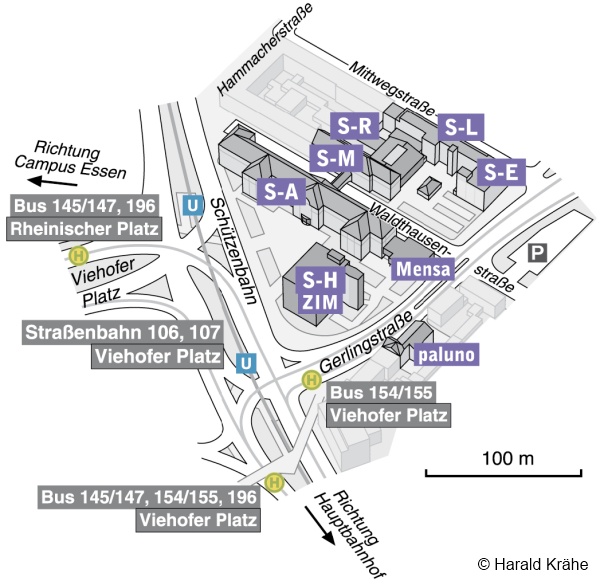 Campus Essen (Area S)
Car
Leave highway A40 at exit Stadtmitte or Huttrop, then follow signs Zentrum/Universität. When coming from Düsseldorf via A52, leave at exit Essen-Süd and follow signs Universität (not Universitätsklinikum).
The entrance to the parking area is on Gerlingstraße.
Regional Transit
Trams 101 and 105 stop at Rheinischer Platz from where you have to walk 300m in eastern direction to our building. Trams 106 and 107 stop at Viehofer Platz, which is only 50m away from our building.
For detailed connections, also with busses, have a look at the VRR Journey Planner.
National Transit
Essen is well connected with regional and long-distance trains. Look at the Deutsche Bahn webpage for connections. You have to buy your ticket before entering the train.
The fastest way (3-4 min.) to get from Essen main station to our building is to take a tram from platform 1 in the basement floor (not the train platform on top floor). Just follow the Tram sign in the main station.
You can also have a nice walk through the pedestrian zone, which takes approx. 10-15 minutes. Alternatively, taxis are waiting at the north exit of the main station (towards city center).
Airports
Düsseldorf (DUS)
The closest airport is Düsseldorf (approx. 30 km). From the terminal, take the Sky Train to the Airport Railway Station (4 minutes). Trains to Essen usually ride from track 1 and 5 – the trip takes approx. 22 minutes.
Tickets for the regional trains (RE, RB) are also valid for the tram in Essen. You could also take IC or ICE trains, but they are more expensive, not much faster and the ticket is not valid for the trams in Essen.
Köln/Bonn (CGN)
Köln/Bonn airport is approx. 77km from Essen. Usually, you have to change trains once in Cologne but there are also a few ICE trains that connect the airport with Essen directly. The trip takes between 70 and 85 minutes.
Dortmund (DTM)
Although Dortmund airport is also close (approx. 46 km), it is a bit inconvenient to go there since you have to take a bus to Dortmund main station or Holzwickede station first. The trip takes between 1 and 1.5 hours.
Niederrhein/Weeze (NRN)
The airport Niederrhein is 83 km away from Essen. Like Dortmund airport, you will have to take a bus to the train stations Weeze or Kevelaer. The whole trip takes almost 2 hours.
Frankfurt (FRA)
It takes at least 1:45 by train from Frankfurt airport (approx. 240 km), but you have to use the more expensive ICE trains.