Building Energy Decision Support Systems for Smart Cities
Energy efficient Smart cities rely on highly heterogeneous already deployed infrastructure and services – e.g., public lighting system, urban heating system, public buildings, electric vehicles, micro-generation, residential prosumers, etc. All these systems are currently managed by isolated Energy Management Systems (EMS), that hardly have capabilities to offer information and services to third parties in order to achieve advanced coordinated energy saving strategies.
This challenging scenario has motivated the extensive adoption of new business models where not only the maintenance of the public infrastructure has been outsourced, but also the management of any process leading to a saving of costs, energy or CO2 emissions. The municipalities and facility owners responsible of public services have established contracts with specific Service Level Agreements with Energy Service Companies (ESCOs) and Facility Managers (FM) that, based on such SLAs, run the smart city trying to a) reduce costs, so they can obtain a business benefit, b) guarantee the levels of Quality of Service (QoS) established in such contracts. The latest is a key constraint of this kind of service schema since, by the end of the day, citizens will be the ones living the outcome of the approach, and they will demand to maintain similar – if not better – levels of QoS.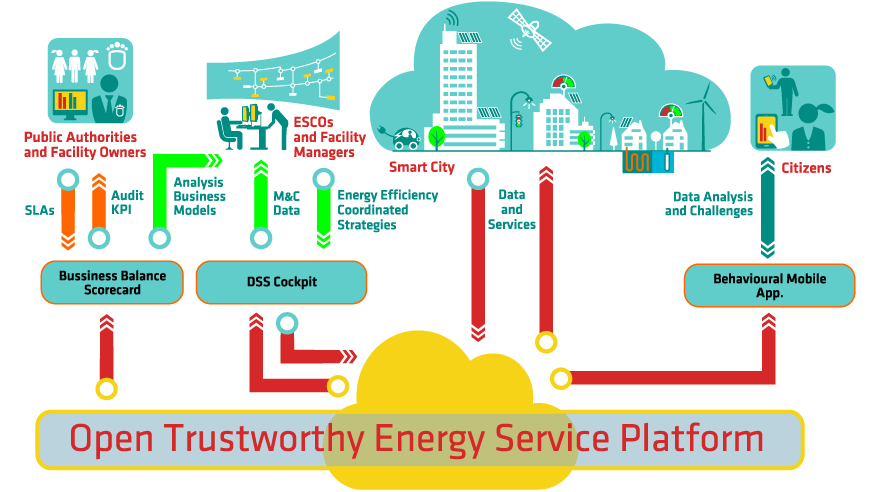 BESOS High Level Overview
BESOS proposes the development of an advanced, integrated, management system which enables energy efficiency in smart cities from a holistic perspective. To that end, the Energy Management Systems deployed in a typical district that are consuming or producing energy, and which nowadays normally count with an isolated IT management solution, will be able to share data and services through and open trustworthy platform among themselves and to external third party applications. This enables the design and development of higher level applications – i.e., the Business Balanced score Card and DSS Cockpit – that are able to process real-time data and generate valuable analysis to affect the business and Monitoring and Control (M&C) strategies that operate a smart city – or a subset of the energy services deployed.
Our group is responsible for the Open Trustworthy Energy Service Platform that allows the secure and privacy-preserved sharing of energy data among the various stakeholders, giving special attention to the citizens data, in a future smart grid neighborhood.
Facts
| | |
| --- | --- |
| Name | Building Energy Decision Support Systems for Smart Cities |
| Acronym | BESOS |
| Duration | 01.10.2013 - 30.09.2016 |
| Funding | European Comission, FP7 |
| Contact | Wolfgang Apolinarski |
| Website | http://besos-project.eu |