Estimation and Control for Safe Wireless High Mobility Cooperative Industrial Systems
Autonomous systems and unmanned aerial vehicles (UAVs), can play an important role in many applications including disaster management, and the monitoring and measurement of events, such as the volcano ash cloud of April 2010. Currently, many missions cannot be accomplished or involve a high level of risk for the people involved (pilots and drivers), as unmanned vehicles are not available or not permitted. This also applies to search and rescue missions, particularly in stormy conditions, where pilots need to risk their lives. These missions could be performed or facilitated by using autonomous helicopters with accurate positioning and the ability to land on mobile platforms such as ship decks. These applications strongly depend on the UAV reliability to react in a predictable and controllable manner in spite of perturbations, such as wind gusts. On the other hand, the cooperation, coordination and traffic control of many mobile entities are relevant issues for applications such as automation of industrial warehousing, surveillance by using aerial and ground vehicles, and transportation systems.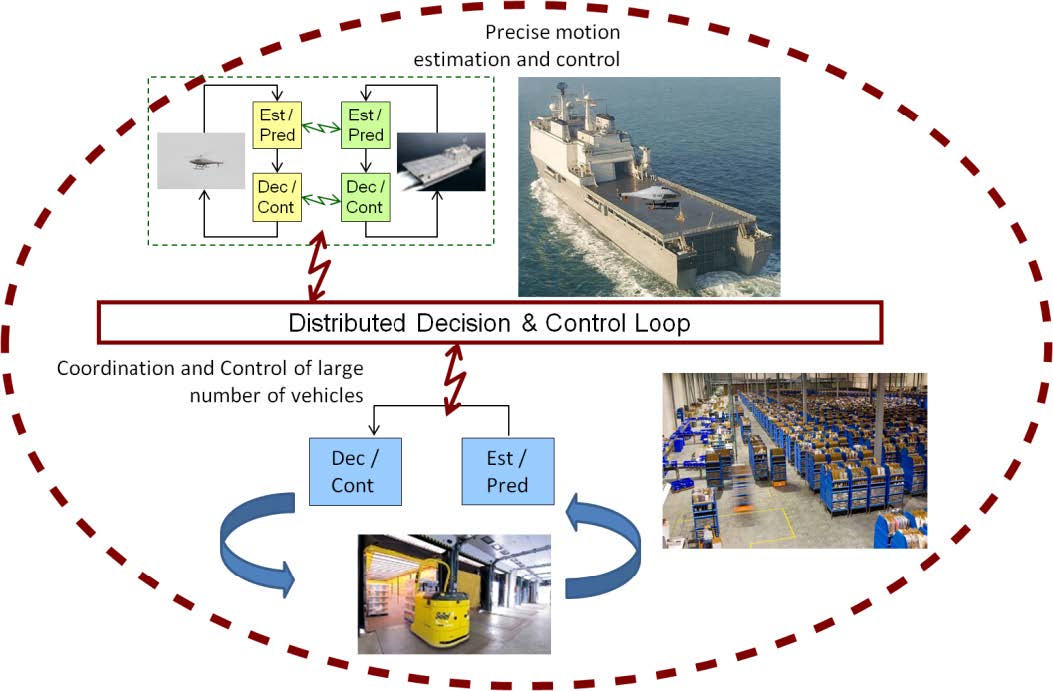 The EC-SAFEMOBIL Approach
EC-SAFEMOBIL is devoted to the development of sufficiently accurate common motion estimation and control methods and technologies in order to reach levels of reliability and safety to facilitate unmanned vehicle deployment in a broad range of applications. It also includes the development of a secure architecture and the middleware to support the implementation. Two different kind of applications are included in the project:
Very accurate coupled motion control of two mobile entities. The technologies will be demonstrated in two challenging applications dealing with the landing on mobile platforms and launching of unmanned aerial vehicles from a manned vehicle.
Distributed safe reliable cooperation and coordination of many high mobility entities. The aim is to precisely control hundreds of entities efficiently and reliably and to certify developed techniques to support the exploitation of unmanned platforms in non-restricted areas. This development will be validated in two scenarios: industrial warehousing involving a large number of autonomous vehicles and surveillance also involving many mobile entities.
Facts
| | |
| --- | --- |
| Name | Estimation and Control for Safe Wireless High Mobility Cooperative Industrial Systems |
| Acronym | EC-SAFEMOBIL |
| Duration | 30.06.2011 - 29.06.2015 |
| Funding | European Commission, FP7 |
| Contact | Falk Brockmann |
| Website | http://ec-safemobil-project.eu |